Greetings!
Please see the link for a printable PDF of the upcoming Town Hall Meeting/Tour of the Temporary Catholic Health Emergency Department which will open in Lockport.  This temporary facility will serve as a stand alone ED until the new hospital is built.  Please take the time to RSVP if you are interested in attending!
Express-Care-Town-Hall-Flyer.pdf (ubmdems.com)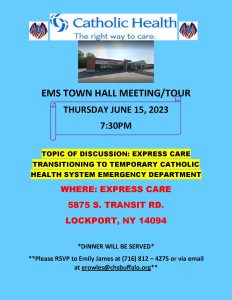 Thank you!  Stay Safe!